ST2 1-IN-2-OUT Terminal Block
Product Detail
Product Tags
| | |
| --- | --- |
| Type | ST2-4/1X2 |
| L/W/H | 6.2*66.8*35.5 mm |
| Rated cross section | 4 mm2 |
| Rated current | 32 A |
| Rated voltage | 800 V |
| The minimum cross section(Rigid wire) | 0.2 mm2 |
| The maximum cross section(Rigid wire) | 6 mm2 |
| The minimum cross section(Soft wire) | 0.2 mm2 |
| The maximum cross section(Soft wire) | 4 mm2 |
| Cover | ST2-4/1X2G |
| Jumper | UFB 10-6 |
| Marker | ZB6M |
| Packing unit | 100 |
| Minimum Order Quantity | 100 |
| Weight of each(not include packing box) | 8 g |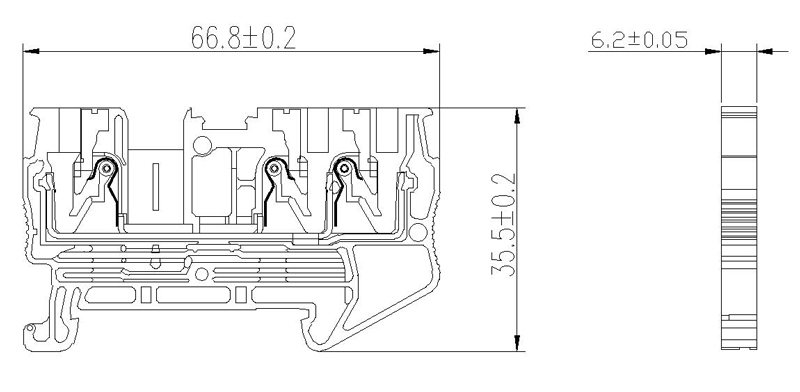 1. Power distribution: The ST2 1-IN-2-OUT Terminal Block can be used to distribute power to multiple devices or components in an industrial setting. Its compact design makes it ideal for use in tight spaces, while its high current capacity ensures reliable operation.
2. Motor control: The terminal block can be used for motor control applications, allowing multiple motors to be connected to a single power source. Its push-in connection system makes wiring fast and easy, reducing installation time and costs.
3. Signal wiring: The terminal block can also be used for signal wiring applications, allowing multiple sensors or other devices to be connected to a single control system. Its finger-safe design ensures safe and reliable operation, while its high-density design saves space in control panels.
Overall, the ST2 1-IN-2-OUT Terminal Block offers a range of unique advantages and applications, making it an excellent choice for a variety of industrial settings. Its space-saving design, versatility, easy wiring, high current capacity, safety and reliability, and easy maintenance make it an ideal solution for power distribution, motor control, and signal wiring applications.
---
Previous:
SUK Test Disconnect Terminal Block
---