ST2 2-IN-2-OUT Terminal Block
Product Detail
Product Tags
| | |
| --- | --- |
| Type | ST2-2.5/2X2 |
| L/W/H | 5.2*72.4*35.5 mm |
| Rated cross section | 2.5 mm2 |
| Rated current | 24 A |
| Rated voltage | 500 V |
| The minimum cross section(Rigid wire) | 0.2 mm2 |
| The maximum cross section(Rigid wire) | 4 mm2 |
| The minimum cross section(Soft wire) | 0.2 mm2 |
| The maximum cross section(Soft wire) | 2.5 mm2 |
| Cover | ST2-2.5/2X2G |
| Jumper | UFB 10-5 |
| Marker | ZB5M |
| Packing unit | 90 STK |
| Minimum Order Quantity | 90 STK |
| Weight of each(not include packing box) | 9g |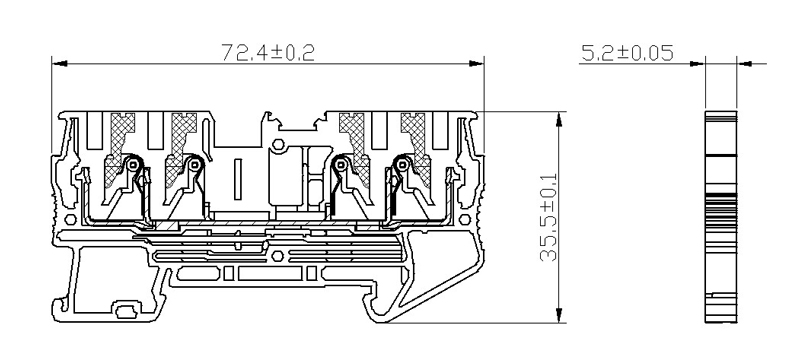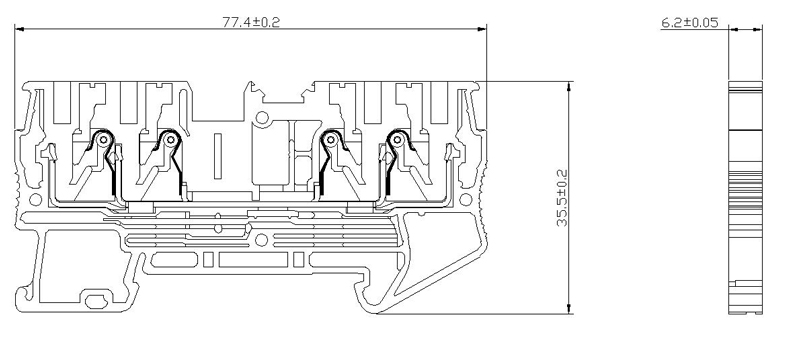 | | |
| --- | --- |
| Type | ST2-4/2X2 |
| L/W/H | 6.2*77.4*35.5 mm |
| Rated cross section | 4 mm2 |
| Rated current | 32 A |
| Rated voltage | 800 V |
| The minimum cross section(Rigid wire) | 0.2 mm2 |
| The maximum cross section(Rigid wire) | 6 mm2 |
| The minimum cross section(Soft wire) | 0.2 mm2 |
| The maximum cross section(Soft wire) | 4 mm2 |
| Cover | ST2-4/2X2G |
| Jumper | UFB 10-6 |
| Marker | ZB6M |
| Packing unit | 60 STK |
| Minimum Order Quantity | 60 STK |
| Weight of each(not include packing box) | 12.5 g |
1. Compact Design: The ST2 2-IN-2-OUT Terminal Block features a compact design that allows for easy installation in tight spaces. The block can accommodate up to two incoming and two outgoing wires, making it ideal for use in confined areas.
2. Easy Installation: The terminal block features a modular design that makes it easy to install and connect to other components. The block has a large contact area and can accept a wide range of wire sizes, allowing for easy installation and maintenance.
3. Durability: The terminal block is made from high-quality materials that provide exceptional durability and long-lasting performance. The block is resistant to shock, vibration, and temperature changes, making it suitable for use in harsh environments.
4. Safety: The terminal block is designed with safety in mind, featuring a finger-safe design that protects against accidental contact with live parts. The block also has a rugged construction that protects against electrical arcing and short circuits.
5. Cost-Effective: The terminal block is an affordable solution for connecting multiple wires in a compact design, providing excellent value for money. The block is easy to install and maintain, reducing the overall cost of ownership over the life of the product.
---
Previous:
ST2 1-IN-2-OUT Terminal Block
---