ST2 Double level Terminal Block
Product Detail
Product Tags
| | |
| --- | --- |
| Type | ST2-2.5/2-2 |
| L/W/H | 5.2*68.5*46 mm |
| Rated cross section | 2.5 mm2 |
| Rated current | 24 A |
| Rated voltage | 500 V |
| The minimum cross section(Rigid wire) | 0.2 mm2 |
| The maximum cross section(Rigid wire) | 4 mm2 |
| The minimum cross section(Soft wire) | 0.2 mm2 |
| The maximum cross section(Soft wire) | 2.5 mm2 |
| Cover | ST2-2.5/2-2G |
| Jumper | UFB 10-5 |
| Marker | ZB5M |
| Packing unit | 72 |
| Minimum Order Quantity | 72 |
| Weight of each(not include packing box) | 10 g |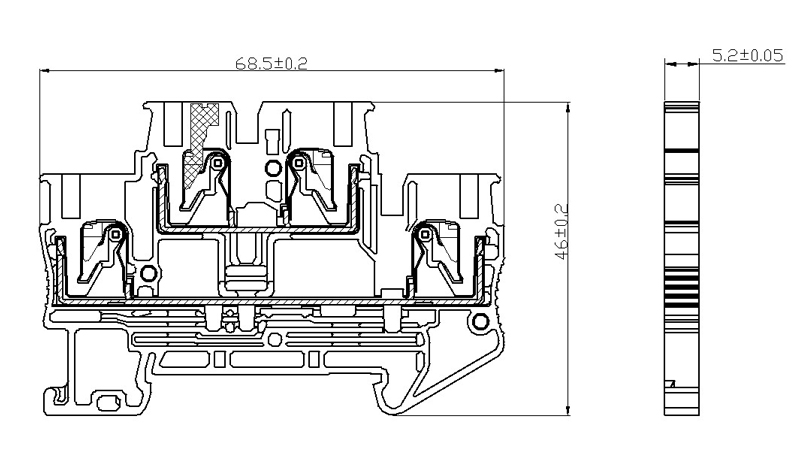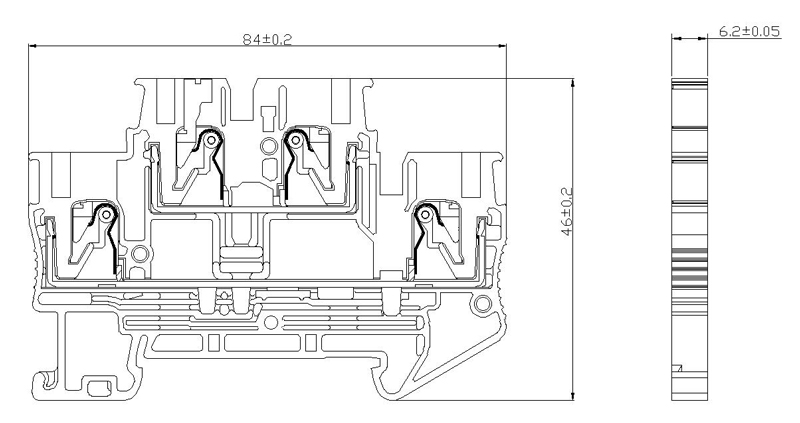 | | |
| --- | --- |
| Type | ST2-4/2-2 |
| L/W/H | 6.2*84*46 mm |
| Rated cross section | 4 mm2 |
| Rated current | 32 A |
| Rated voltage | 800 V |
| The minimum cross section(Rigid wire) | 0.2 mm2 |
| The maximum cross section(Rigid wire) | 6 mm2 |
| The minimum cross section(Soft wire) | 0.2 mm2 |
| The maximum cross section(Soft wire) | 4 mm2 |
| Cover | ST2-4/2-2G |
| Jumper | UFB 10-6 |
| Marker | ZB6M |
| Packing unit | 100 |
| Minimum Order Quantity | 100 |
| Weight of each(not include packing box) | 16 g |
1. Space-Saving Design: The ST2 Double Level Terminal Block features a compact, double-level design that allows for easy installation in tight spaces. The block can accommodate multiple wires and connections in a single block, making it ideal for use in confined areas.
2. Easy Installation: The terminal block features a modular design that makes it easy to install and connect to other components. The block has a large contact area and can accept a wide range of wire sizes, allowing for easy installation and maintenance.
3. Versatility: The ST2 Double Level Terminal Block can be used in a wide range of applications, including industrial automation, motor control, and power distribution. The block can be used with a variety of wire sizes.
4. Flexibility: The ST2 Double Level Terminal Block allows for easy customization and expansion, with the ability to add or remove levels and modules as needed. This flexibility makes it easy to adapt to changing requirements or configurations.
---
Previous:
ST2 2-IN-2-OUT Terminal Block
---